Top Coffee-Infused Recipes For Your Next Brunch
Instead of just pouring a cup, why not add fresh-brewed coffee to some breakfast favorites? A hint of rich coffee flavor adds something a little unexpected and delicious, especially for coffee lovers! Try out these coffee-infused recipes below the next time you want to serve breakfast fare with a flavorful twist.
Coffee French Toast
The coffee flavor of this recipe is tasty, yet not overpowering. If you want to give your brunch guests a pleasant surprise, this is the recipe to try.
Ingredients:
1/8 teaspoon freshly ground coffee
1/2 cup heavy whipping cream
1 tablespoon powdered sugar
1 cup whole milk
4 large eggs
2 tablespoons sugar
1/8 cup brewed coffee.
Directions
1. Use your Mr. Coffee® Blade Grinder to turn your coffee beans into a fine powder.
2. Combine the coffee grounds, heavy whipping cream and powdered sugar in a mixing bowl. Beat until it reaches the desired thickness. Set aside.
3. Brew the other coffee, using your preferred method.
4. In another mixing bowl, whisk together the milk, eggs, sugar and brewed coffee. Pour the mixture into a wide, shallow bowl.
5. Dip the bread into the mixture and fry on a lightly greased pan until both sides are browned.
6. Pour the coffee/cream mixture evenly onto each slice and serve.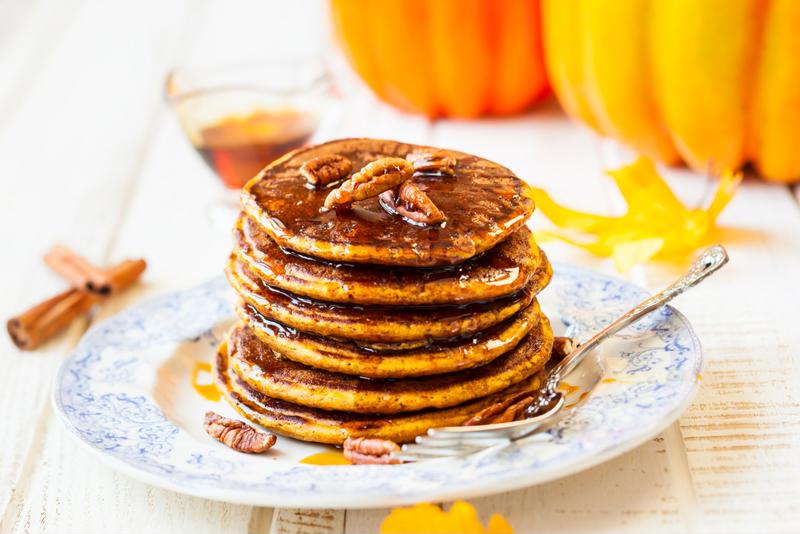 Coffee Pancakes
The great thing about this recipe is that it isn't much different from a traditional pancake recipe! With just a minor tweak, your next pancake breakfast or brunch will be jam-packed with coffee flavor.
Ingredients:
1/2 teaspoon coffee grounds
1 teaspoon baking powder
1 teaspoon baking soda
1/4 teaspoon salt
2 tablespoons sugar
1 cup flour
1 egg
1 cup buttermilk
1 tablespoon unsalted butter, melted.
Directions
1. Start by grinding your coffee beans for the freshest flavor. Use the finest setting on your machine.
2. In a bowl, stir together the coffee grounds, baking powder, baking soda, salt, sugar and flour.
3. In another bowl, combine the egg, buttermilk, and butter.
4. Pour the wet ingredients into the dry ingredients and stir until everything is well combined - a few lumps are OK.
5. Use 1/4 cup of batter for each pancake, cooking each side for 2 minutes.
6. Stack on a plate and enjoy with maple syrup!
Coffee Cinnamon buns
Coffee and cinnamon go great together. You might want to make a double batch of these buns, because they're sure to go fast!
Filling Ingredients:
1 cup brown sugar
2 teaspoons cinnamon
1 teaspoon coffee
4 tablespoons butter.
Dough Ingredients:
2 cups flour
1 teaspoon salt
2 tablespoons sugar
4 teaspoons baking powder
3 tablespoons butter
3/4 cup milk.
Glaze Ingredients:
1/4 cup milk
1/2 cup powdered sugar.
Directions
1. Heat your oven to 400 degrees.
2. To make the filling, combine the sugar, cinnamon, coffee grounds and butter in a small bowl. Sprinkle half of the resulting mixture on to the bottom of a 9-by-9-inch pan.
3. For the dough, mix together the flour, salt, sugar, and baking powder. Then fold in the butter. Finally, add the milk and stir to form a dough.
4. Lightly cover a flat surface with flour and roll the dough onto it until it's about 1/4-inch in thickness. Evenly spread the remaining half of the filling on top.
5. Roll up the dough and cut it into 12 large, evenly sized rolls.
6. Bake for 20 minutes or until browned.
7. While the buns are baking, make the glaze by mixing the milk and powdered sugar. When the buns are out of the oven and still hot, pour the the glaze on top and serve.
Sunbeam Products, Inc. d/b/a Jarden Consumer Solutions has not tested these recipes and is not responsible for the outcome of any recipe. You may not achieve the results desired due to variations in ingredients, cooking temperatures, cooking times, typos, errors, omissions, or individual cooking abilities. Please always use your best judgment when cooking with raw ingredients such as eggs, chicken or fish.