Mr. Coffee® Tea Cafe Iced Tea Maker, 2.5-Qt, Black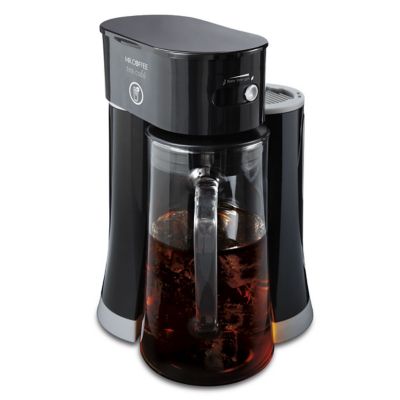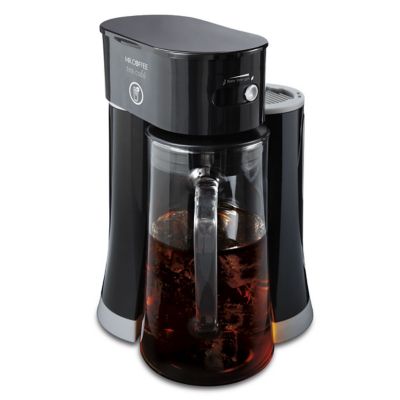 Mr. Coffee® Tea Cafe Iced Tea Maker, 2.5-Qt, Black
Final Sale: may not be returned or exchanged
Final Sale: may not be returned or exchanged
Product Details
Description
Gourmet-style, iced tea has never been easier thanks to the Mr. Coffee® Tea Café. This automatic iced tea maker brews tea bags or tea leaves to the strength you like with the adjustable Brew Strength selector. Enjoy creating your own custom-flavored iced tea drinks or follow one of the 20 Mr. Coffee® recipes included. 2.5-quart pitcher and lid are dishwasher-safe for easy cleaning. Skip the coffeehouse and enjoy fresh iced tea at home.
2.5 quart pitcher capacity makes enough to share with friends and family
Dishwasher-safe pitcher and removable brew basket for easy clean up
Can brew using either loose leaf tea or tea bags
Adjust your iced tea to the strength you like with the adjustable brew strength selector
Tea maker automatically shuts off when brewing is complete
Care & Maintenance
Hard water can leave mineral deposits inside the pitcher and the brew basket. To remove these, fill the brew basket and the pitcher with warm, undiluted white household vinegar. Let soak for 20 minutes, then rinse. Never use harsh, abrasive cleansers, steel wool pads or other abrasive materials. They may cause scratches which can lead to breakage. CAUTION! Never immerse the iced tea maker itself in water, in any other liquid or in the dishwasher.
Decalcifying your Mr. Coffee Iced Tea Maker Mineral (calcium/limestone) found in the water will leave deposits in your iced tea maker and will affect its performance. If you notice an increase in steaming or if the pumping action stops before all of the water has been pumped out of the appliance, it's time to clean it. 1. Pour one quart of undiluted, white household vinegar into the water reservoir. 2. Place the pitcher lid on the pitcher and slide the pitcher into place under the iced tea maker. 3. Push the "on" button to begin the brewing cycle. After one cup of cleaner or vinegar has pumped into the pitcher, unplug the iced tea maker. Let it stand for 30 minutes.
Rated

4

out of

5
by
Flynn
from
Very good but be careful.
I've had my Tea Maker for about two months now and am very pleased with it. While it brews the tea nicely there are some problems that other people have noted. 1. The pitcher is thin and fragile glass that can break easily BUT if you follow the cleaning and breaking instruction included with the machine then it should last. People who's pitchers broke most likely machine washed, banged the glass, or didn't brew properly which caused the break. 2. The machine lid is a bit flimsy, mine snapped of in the first week, but it still sits on top just fine. All in all its a good brewer for the price in a market that doesn't have enough brewers in them, just be sure to treat it gently.
Date published: 2016-06-17
Rated

2

out of

5
by
Mr Tea
from
Works as promised with major shortcomings
At maximum setting, the brewed tea is not as strong as steeping tea bags in a pot of hot water. If you melt lots of ice cubes in it, it becomes weak. Also, the glass pitcher is extremely thin and fragile. I was afraid of putting ice cubes into the hot pitcher in fear of cracking it. I decided to transfer the hot tea into a separate plastic container for chilling. That kind of defeats the purpose of having this product considering the space it occupies on my countertop. Please Mr. Coffee ask Pyrex to make you a real glass pitcher that can withstand temperature extremes and everyday use.
Date published: 2017-05-03
Rated

1

out of

5
by
Mr1vette1
from
Great Machine /Worthless Pitcher
This is the second unit I have purchased...same problem...What is up with this thin GLASS PITCHER...IT IS WORTHLESS ..I would pay more if the quality of the glass were better. The pitcher breaks so so easy ..The only reason for buying it was my wife liked it ..after this Break we are DONE
Date published: 2020-04-01
Rated

3

out of

5
by
RexGreen
from
Low capacity. Too-fragile pitcher.
I have brewed 8-10 times with this product, and it is easy to use and seems to work well. My main complaints are that the capacity is pretty low and the pitcher is too fragile. It's also *very* noisy while brewing, especially toward the end of the cycle. Regarding the pitcher, mine has already developed some small cracks in the handle, and I am now afraid to even pick it up when it's full, for fear that the handle will break off. I have read many product reviews that also complained about the picture breaking easily. It's an elegant-looking glass pitcher, but seems way too fragile for everyday use. I would gladly pay an extra $10 for a sturdy pitcher. Regarding the capacity, I would prefer to brew about twice the quantity each time, as I am a frequent iced tea drinker.
Date published: 2019-01-26
Rated

1

out of

5
by
D9893
from
Fragile Tea Pitcher
I bought the BVMC-TM33 tea maker online from Walmart on September 6, 2020. I have had the tea maker for 3 months and the pitcher cracked while adding ice. I contacted Mr. Coffee but they wouldn't replace the pitcher under warranty without a receipt. I guess I had deleted the receipt from my email. I know I should have kept the receipt but they could have replaced the pitcher. I wish I had read the reviews before I purchased the tea maker. According to reviews the pitcher is fragile and could be of better quality.
Date published: 2020-12-15
Rated

5

out of

5
by
Tbean
from
Very Happy with this Iced Tea Maker
I just ordered a replacement pitcher for this Iced Tea Maker, I have had for 3 1/2 years. I make a fresh pitcher almost everyday, wash it in the dishwasher & put ice in the pitcher after it brews without ever having a problem. It still works and looks just like when it was new. The pitcher is thin, and I would prefer it was a bit thicker, but mine broke because I had it too close to something else in the dishwasher. I purchased another replacement pitcher, that was thicker, but it cracked after only a few months. I ordered two new Mr. Coffee pitchers, so I can have one in the dishwasher, and still have a clean one. I would be very happy if I can get 3 1/2 years out of the new ones. I will surely purchase another machine when this one quits!
Date published: 2017-05-26
Rated

1

out of

5
by
bstarnes
from
Quit Working after 2-3 Uses
I bought one of these from Wal-Mart and it quit working after 2 uses. I took it back and exchanged it for a new one, and the same thing happened to the second one. It stopped working after about 2 weeks of use. I like the glass pitcher, but have given up on purchasing another tea maker. I just do it the old fashioned way on the stove.
Date published: 2018-12-29
Rated

5

out of

5
by
ktgogators
from
Cannot Live WIthout This!
This iced tea maker is fantastic! I honestly don't know how I got along without it! I love it so much I even travel with it. I saw that one of the critical reviews mentioned that the pitcher is flimsy and shattered easily. I have to say this has not been my experience. As I mentioned above, I travel with this thing if I'm going to be away for more than a couple of days. I don't do anything special to pack the pitcher, it all just goes in a bag and thrown in the back of the SUV. I've had this unit and pitcher for well over 1 year and have had ZERO problems.
Date published: 2016-08-01
bvseo_sdk, dw_cartridge, 18.2.0, p_sdk_3.2.0
CLOUD, getReviews, 0ms
reviews, product
---
<!--begin-bvseo-questions--> <!--begin-questions--> <div id="bvseo-questionsSection"> <div class="bvseo-question-answer" data-questionid="3297362"> <h2 class="bvseo-question"> I need a replacement pitcher for my ice tea maker.&amp;nbsp; </h2> <div class="bvseo-question-detail"> </div> <div class="bvseo-author">Asked by: JennieTea</div> <div class="bvseo-answer" data-answerid="2615425"> Thank you for reaching out to Mr. Coffee&amp;reg;! We sincerely appreciate your time reaching out and giving us the opportunity to help you to find a replacement pitcher for your tea maker. Part number for the replacement pitcher designed for your tea maker is BVST-TP23. All our products including replacement parts and accessories can be purchased from our legitimate in-store/online retail partners: ereplacementparts.com, Bed, Bath &amp;amp; Beyond, Kohl&#39;s, Macy&#39;s, Amazon, Target, Walmart, Meijer, QVC, Costco, Kroger, The Home Depot, BestBuy, and Sam&#39;s Club. Prices and availability may vary depending on the retail store.&#13;&#10;&#13;&#10;For further assistance, please contact us directly.&#13;&#10;Hope this helps! <div class="bvseo-author">Answered by: Mr Coffee Consumer Care</div> <div class="bvseo-pubdate">Date published: 2021-10-04</div> </div> </div> <div class="bvseo-question-answer" data-questionid="2929235"> <h2 class="bvseo-question"> Where can I purchase a replacement pitcher? &amp;nbsp;As many reviewers have mentioned, the pitcher is very fragile and has broken. I would hate to have to replace the whole tea maker just because the pitcher broke.&amp;nbsp; </h2> <div class="bvseo-question-detail"> </div> <div class="bvseo-author">Asked by: Sjh4</div> <div class="bvseo-answer" data-answerid="2375233"> Thank you for contacting Mr. Coffee&amp;reg;! We sincerely appreciate your support with our brand. Replacement parts like carafes and filters can be purchased from our retail partners: ereplacementparts.com, Bed, Bath &amp;amp; Beyond, Kohl&#39;s, Macy&#39;s, Amazon, Target, Walmart, Meijer, QVC, Costco, Kroger, The Home Depot, BestBuy, and Sam&#39;s Club. Prices may vary depending on the retail store.&#13;&#10;&#13;&#10;If you have any further questions about products and services, please contact us. &#13;&#10;&#13;&#10;We hope this helps! <div class="bvseo-author">Answered by: Mr Coffee Consumer Care</div> <div class="bvseo-pubdate">Date published: 2021-09-04</div> </div> </div> <div class="bvseo-question-answer" data-questionid="2320101"> <h2 class="bvseo-question"> can i brew lipton powder ice tea mix with this machine </h2> <div class="bvseo-question-detail"> </div> <div class="bvseo-author">Asked by: Anonymous</div> <div class="bvseo-answer" data-answerid="2021560"> Hey there! Thanks for reaching us out. This automatic iced tea maker brews tea bags or tea leaves only. <div class="bvseo-author">Answered by: Mr Coffee Consumer Care</div> <div class="bvseo-pubdate">Date published: 2020-10-26</div> </div> </div> <div class="bvseo-question-answer" data-questionid="2314897"> <h2 class="bvseo-question"> Would the plastic pitcher from the 3 quart Mr. Coffee Iced tea Maker work with this Iced tea maker? </h2> <div class="bvseo-question-detail"> </div> <div class="bvseo-author">Asked by: karicircle</div> <div class="bvseo-answer" data-answerid="2012615"> Hey there! Good question! The compatible replacement part for your BVMCTM33RB1 is BVSTTP23. <div class="bvseo-author">Answered by: Mr Coffee Consumer Care</div> <div class="bvseo-pubdate">Date published: 2021-08-18</div> </div> </div> <div class="bvseo-question-answer" data-questionid="2314941"> <h2 class="bvseo-question"> I have had this iced tea maker for years and it has never failed me. &amp;nbsp;I do have a question though - after so may uses over such a long period of time, is there a way to clean the water reservoir? &amp;nbsp;I am beginning to have some concern about what I can&#39;t see </h2> <div class="bvseo-question-detail"> </div> <div class="bvseo-author">Asked by: KP106</div> <div class="bvseo-answer" data-answerid="2010356"> Thanks for reaching out! Kindly follow the steps below to clean your iced tea maker:&#13;&#10;It&amp;rsquo;s recommended that you regularly remove mineral deposits by using&#13;&#10;undiluted, white household vinegar.&#13;&#10;1. Pour one quart of undiluted, white household vinegar into the water&#13;&#10;reservoir.&#13;&#10;2. Place the pitcher lid on the pitcher and slide the pitcher into place&#13;&#10;under the Rotating Brew Head.&#13;&#10;3. Push the &amp;ldquo;on&amp;rdquo; button to begin the brewing cycle. After one cup of&#13;&#10;vinegar has pumped into the pitcher, unplug the iced tea maker. Let&#13;&#10;it stand for 30 minutes.&#13;&#10;4. Plug in the iced tea maker again. Continue brewing process again to&#13;&#10;pump out the remaining cleaner or vinegar.&#13;&#10;5. When the iced tea maker shuts off, unplug it, remove the pitcher and&#13;&#10;discard the cleaning solution.&#13;&#10;6. Fill the pitcher with clean water to the water level marked on the&#13;&#10;pitcher and repeat Steps 1-5 without the cleaning solution. Repeat&#13;&#10;this process if necessary. <div class="bvseo-author">Answered by: Mr Coffee Consumer Care</div> <div class="bvseo-pubdate">Date published: 2021-08-18</div> </div> </div> <div class="bvseo-question-answer" data-questionid="2312715"> <h2 class="bvseo-question"> Is the carafe replaceable? </h2> <div class="bvseo-question-detail"> </div> <div class="bvseo-author">Asked by: Jbart</div> <div class="bvseo-answer" data-answerid="2009088"> ey there! Good question! Yes, the carafe for this tea maker is replaceable and has a part number BVST-TP23. <div class="bvseo-author">Answered by: Mr Coffee Consumer Care</div> <div class="bvseo-pubdate">Date published: 2021-07-17</div> </div> </div> <div class="bvseo-question-answer" data-questionid="2297921"> <h2 class="bvseo-question"> How can i buy a replacement caraf? </h2> <div class="bvseo-question-detail"> </div> <div class="bvseo-author">Asked by: Bluebird62</div> <div class="bvseo-answer" data-answerid="1996830"> Thanks for reaching out! As we pursue new pathways to bring our products directly to you, we are relying on our retail partners to offer you the best of Mr. Coffee products. You can purchase Mr. Coffee products and replacement parts at any of our retail partners.&#13;&#10;&#13;&#10;You may find this complete list of our online and in-store authorized retailers:&#13;&#10;&#13;&#10;Amazon, Walmart, Target, Bed, Bath &amp;amp; Beyond, Best Buy, Costco Wholesale, Meijer, Macy&#39;s, Kroger, Kohl&#39;s, Sam&#39;s Club and The Home Depot.&#13;&#10;&#13;&#10;Hope this helps! <div class="bvseo-author">Answered by: Mr Coffee Consumer Care</div> <div class="bvseo-pubdate">Date published: 2021-07-03</div> </div> </div> <div class="bvseo-question-answer" data-questionid="2284060"> <h2 class="bvseo-question"> Where can I find a replacement brew basket for this tea maker? Please don&#39;t tell me to go to a trusted retailer. I tried that from your web page, and all it shows are retailers who want to sell me a new tea maker, plus one other dubious link </h2> <div class="bvseo-question-detail"> </div> <div class="bvseo-author">Asked by: SandSlee</div> <div class="bvseo-answer" data-answerid="1990634"> You can purchase Mr. Coffee products and replacement parts at any of our retail partners. You can visit our website and choose from the lists of our retail partners: Bed, Bath &amp;amp; Beyond, Kohl&#39;s, Macy&#39;s, Amazon, Target, Walmart, Meijer, QVC, Costco, Kroger, The Home Depot, BestBuy, and Sam&#39;s Club. Price may vary depending on the retail store. &#13;&#10;&#13;&#10;Hope this information helps! Have a great day! <div class="bvseo-author">Answered by: Mr Coffee Consumer Care</div> <div class="bvseo-pubdate">Date published: 2022-01-18</div> </div> </div> </div> <script type="text/javascript"> if (document.getElementById('bvseo-questionsSection')) { document.getElementById('bvseo-questionsSection').style.display = 'none'; } </script> <!--end-questions--> <!--begin-pagination--> <ul id="bvseo-paginationSection"> <li class="bvseo-paginationItem"><a class="bvseo-paginationLink" href="https://www.mrcoffee.com/specialty-brewers/tea/mr.-coffee-tea-cafe-iced-tea-maker-2.5-qt-black/SAP_BVMCTM33RB1.html?bvrrp=Main_Site-en_US/questions/product/2/SP_544012.htm">Mr. Coffee&reg; Tea Cafe Iced Tea Maker, 2.5-Qt Questions - page 2</a></li> </ul> <!--end-pagination--> <ul id="BVSEO_meta" style="display:none!important"> <li data-bvseo="bvDateModified">y_2022, m_1, d_19, h_20CST</li> <li data-bvseo="ps">bvseo_bulk, prod_bvqa, vn_bulk_3.0.20</li> <li data-bvseo="cp">cp_1, bvpage1</li> <li data-bvseo="co">co_hasquestionsanswers, tq_279</li> <li data-bvseo="cf">loc_en_US, sid_SP_544012, prod, sort_[SortEntry(order=LAST_APPROVED_ANSWER_SUBMISSION_TIME, direction=DESCENDING)]</li> <li data-bvseo="diagnostics">clientName_mrcoffee-jcs</li> </ul> <!--end-bvseo-questions--> <ul id="BVSEOSDK_meta" style="display: none !important;"> <li data-bvseo="sdk">bvseo_sdk, dw_cartridge, 18.2.0, p_sdk_3.2.0</li> <li data-bvseo="sp_mt">CLOUD, getContent, 0ms</li> <li data-bvseo="ct_st">questions, product</li> </ul>
product-detail-view
oos-pdp