Skinny Iced Caramel Macchiato Recipe
Ready to learn how to make a macchiato that rivals seasoned baristas? Picture this: a tall glass filled to the brim with smooth, dark roast coffee, swirling with ribbons of luscious caramel and hints of rich French vanilla. Sounds dreamy, doesn't it? Well, get ready to turn your kitchen into a coffeehouse with our Mr.Coffee ® Skinny Iced caramel Macchiato recipe full of guilt-free indulgence. Say goodbye to time-consuming macchiato runs to the cafe and hello to a satisfying macchiato that will always curb your cravings. So grab your favorite Mr.Coffee travel tumbler, because it's time to brew and sip your way to caffeinated bliss.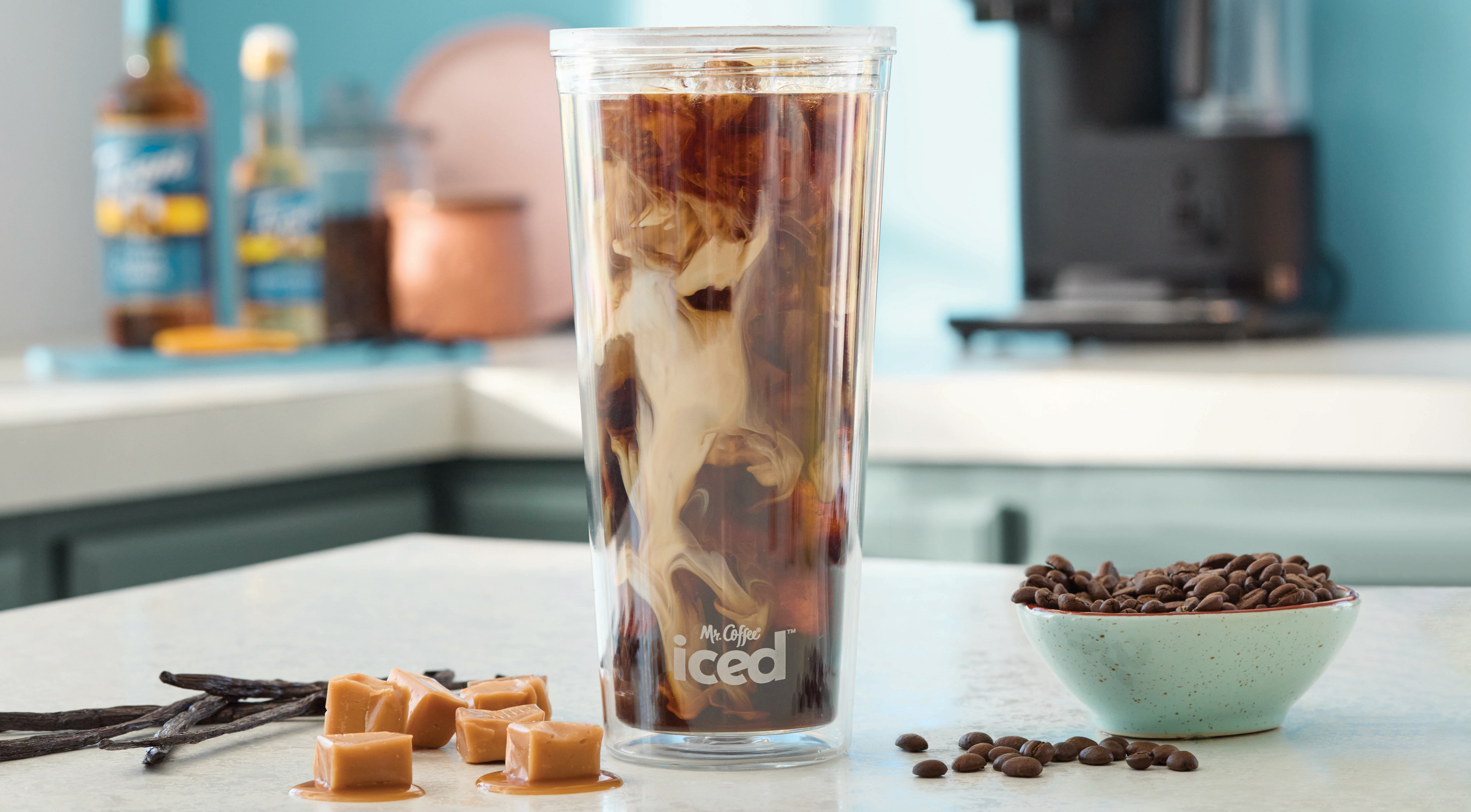 Ingredients
2 Tbsp Torani Sugar-Free French Vanilla Syrup
4 Tbsp Torani Sugar-Free Classic Caramel Syrup
1/4 C H

alf and Half
Instructions
Add 1 scoop of coffee grounds to coffee filter

Fill coffee tumbler with water up to water line and add to water reservoir

Add ice to tumbler (up to ice line)

Brew coffee into tumbler

Once coffee is done brewing, add ¼ cup half and half

Add 2 Tbsp Torani Sugar Free French Vanilla Syrup and 4 Tbsp Torani Sugar Free Classic Caramel Syrup

Stir

Enjoy your delicious Iced Caramel Macchiato!
With just a few simple steps, you've learned how to make a caramel macchiato that treats you to the sugar-free sweetness of our Torani French Vanilla Syrup, Sugar-Free Classic Caramel Syrup, and creamy half and half. Our guilt-free caramel Macchiato recipe comes together with a specialty brewer to create a cool down drink during warmer days like our featured Iced Coffee Drinks and Desserts. By brewing coffee directly into a tumbler filled with ice, you'll have the perfect balance of flavor and temperature while on-the-go. Whether you're seeking a delicious morning pick-me-up, a midday treat, or a post-dinner indulgence, this Skinny Iced Caramel Macchiato recipe has got you covered. So, take a moment to savor your new go-to.