Father's Day Gift Guide: Coffee Makers That Dad Will Love
Forget the ties, T-shirts, and corny socks, what dads really want for Father's Day is coffee—and a coffee maker to brew it in. Since the big day will be here sooner than you think, we've curated a gift guide to help you easily find the perfect Mr. Coffee® coffee maker for the dads and father figures in your life.
For Cool Dads...
who love their coffee iced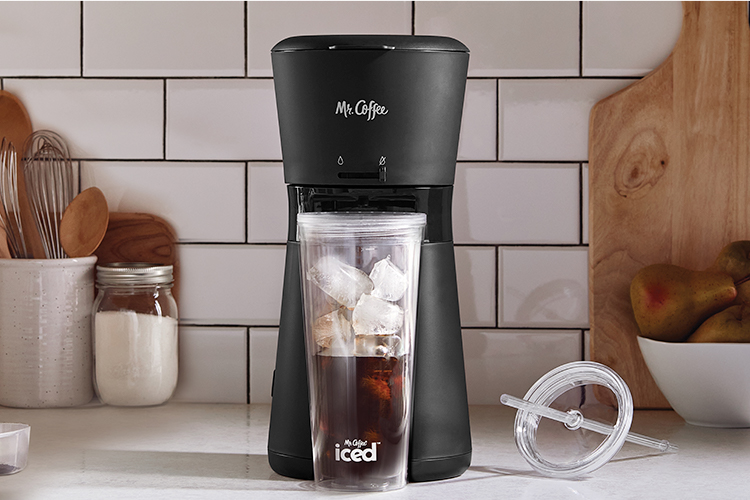 If your dad has mastered TikTok, insists on trying to make skinny jeans work, knows what 'drip' is (when it's not caffeine related), and can't function without his twice-daily iced coffee fix, he is definitely a Cool Dad. For the Cool Dad in your life, we recommend the Mr. Coffee® Iced™ Coffee Maker.
With this single-serve coffee machine, your dad can skip the coffee shop line and make his iced coffee at home. Mr. Coffee Iced brews refreshing iced coffee in less than 4 minutes. It has an easy measuring system that brews the perfect ratio of water + coffee + ice, for coffee that is always bold and flavorful—just the way Dad likes it.
If he wants to take his fresh iced coffee with him on the go, Mr. Coffee Iced makes it easy. It comes with a convenient reusable tumbler that is double-walled to keep his coffee drink nice and cold.
For Choosy Dads…
who like to switch up how they brew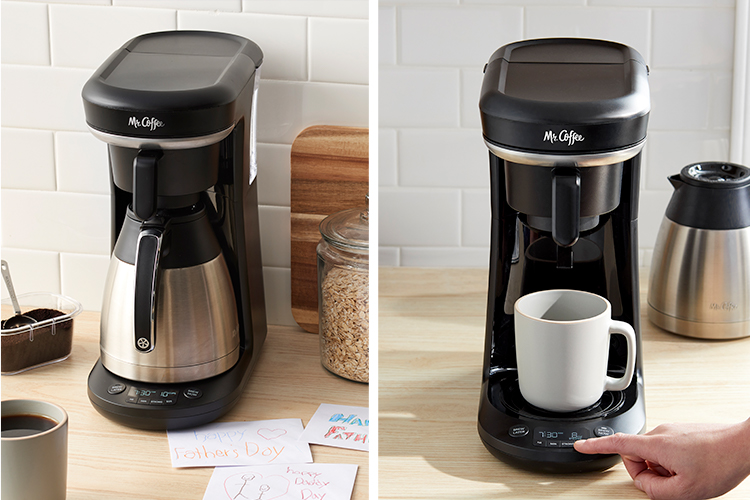 If your dad multitasks like a pro, could (lovingly) be described as picky, always asks to have a menu item prepared just a little bit differently, and likes having options when it comes to brewing his coffee, he's a Choosy Dad. For him, we recommend the Mr. Coffee Pod + 10-Cup Space-Saving Combo Brewer.
This coffee machine gives your dad the option to brew his coffee multiple ways. He can make a single cup of joe using a pod or the reusable single-serve filter, or brew up to 10 cups into the included thermal carafe using coffee grounds. If he's in the mood for a stronger cup of coffee than usual, it's easy to brew a bolder cup at the touch of a button with the Strong Brew selector.
The combo brewer also includes a Brew Later feature, so that Dad can easily program the machine in advance to brew at a later time that's more convenient for him. This coffee maker has a compact design, and saves up to 50% more space*, so it easily fits onto any countertop. (And we all know how Dad loves a tidy countertop!) Your dad is sure to appreciate this coffee machine's compact design and customizable features.
For Busy Dads…
who need hot, strong coffee right now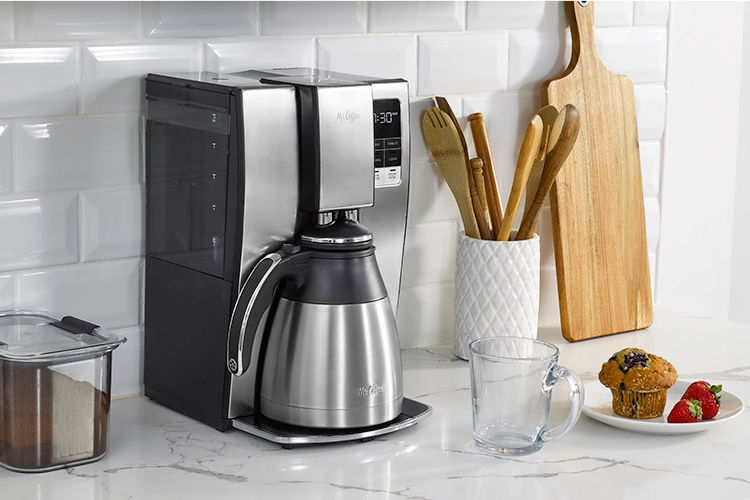 If your dad is never not working, drinks coffee as fuel, can have coffee late at night and still fall asleep, and could confidently describe his blood type as "caffeine", he's a Busy Dad. And for busy dads, the Mr. Coffee Stainless Steel 10-Cup Programmable Coffee Maker is exactly what they need.
Designed with Optimal Brew functionality, this programmable coffee machine brews coffee hotter, and 20% faster**. This means that if your dad is in a hurry (and why wouldn't he be? He's always busy), he can brew his coffee quickly and get on with his day. If, in addition to wanting his coffee fast, he also likes it strong and hot, this is the ideal coffee maker for him. It brews at the optimal temperature—205 degrees F—for the fullest, richest flavor extraction. This coffee machine also features a Strong Brew selector that makes it easy to brew a bolder cup of coffee, as well as a double-walled thermal carafe that keeps coffee hot for hours.
Busy Dads like yours probably want to have a strong cup of coffee first thing in the morning. With the Brew Later feature, Dad can set the coffee maker ahead of time, and wake up to freshly brewed coffee.
For Fancy Dads…
who prefer their coffee a little frothy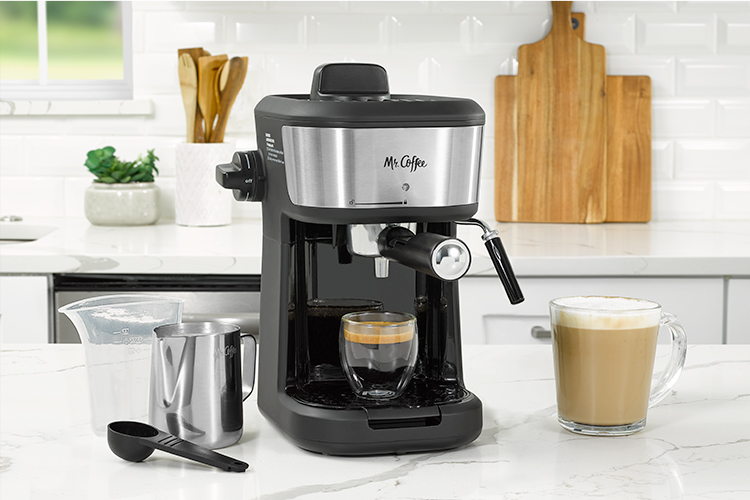 If your father still writes longhand with a fountain pen (instead of using his notes app), could be described as sartorial, prefers the title "patriarch" to "dad", and can expertly do latte art, he's the textbook definition of a Fancy Dad. For Fancy Dads with refined taste levels, the Mr. Coffee Steam Espresso, Cappuccino, and Latte Maker is our recommendation.
With this versatile espresso machine, your dad can be his own barista and make coffeehouse-style drinks at home. Whenever he's in the mood for espresso or espresso-based drinks, he can brew them effortlessly. This machine features a powerful steam-brewing process that makes dark, rich espresso. It also has an extra-large portafilter that brews up to 4 shots at a time, which is great for making Cuban coffee.
If your dad feels like whipping up cappuccinos, lattes, and other café-style drinks, he can use the stainless steel frothing pitcher and integrated frothing wand to steam and froth the milk. Since he's a DIY pro when it comes to brewing coffee, he knows the importance of using precise measurements for excellent flavor. This machine includes a water pitcher or glass carafe with measurement markings, as well as a measuring scoop, so the ratios are always just right.
For Your Dad
Whatever type of dad you have, however many father figures you have in your life, Mr. Coffee has coffee makers that they'll love using and want to show off! Don't see the coffee machine that matches your dad? We have lots more. Check out our full range of coffee makers, espresso machines, specialty brewers, and coffee grinders, and get Dad the gift he's "bean" dying to receive.
*As compared to having both the BVMC-PSTX91RB-NP and the BVMC-HC-CIPS units on the countertop.
**compared to BVMC-SJX39